Medieval Georgia was distinguished by the high level of development in philosophy, historiography, poetics, arts (especially handicraft and national architecture), theology, law and legislation, astronomy, geography, medicine, and other fields of science. This is confirmed by the unique manuscripts of ancient Georgian and foreign authors, by the rich cultural heritage of the Georgian people.
As early as the first half of the 5th century, a magnificent monument of Georgian literature "The Martyrdom of St.Shushanic" by Jacob Tsurtaveli was created, and the genuine peak of development of Medieval public thought is represented by the epic poem "The Knight in the Panther's Skin" by Shota Rustaveli. The latter is a convincing proof of many-sided and profound knowledge accumulated by that time in Georgia in the sphere of humanities and natural sciences.
The Georgian Academy of Sciences, as an organized form of uniting Georgian scientists, was established in February 1941. The direct predecessors of the Academy, preparing grounds for its establishment, were the Georgian branch of the All-Union Academy of Sciences and the Tbilisi State University, where a number of research institutions and scientific centers were created in the 20-s and 30-s of the past century.
The first sixteen elected members of the Georgian Academy of Sciences worked in two Departments: the Department of Mathematics and Natural Sciences, and the Department of Social Sciences.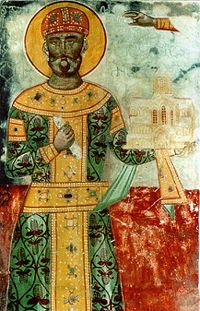 King David the Builder