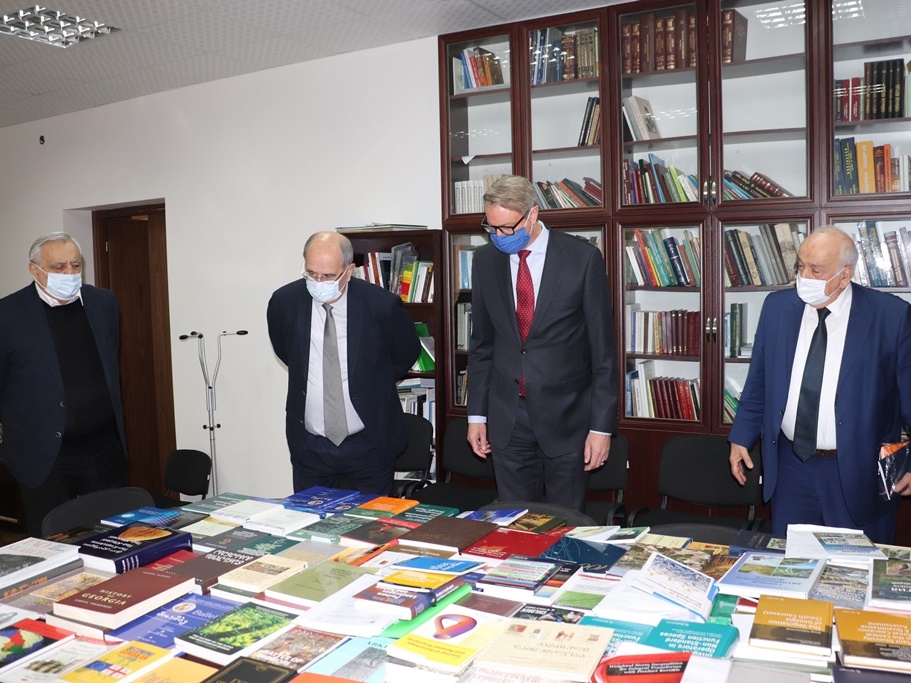 EU Ambassador to Georgia Carl Hartzell visited Georgian National Academy of Sciences
On 19 November 2021, the EU Ambassador to Georgia Carl Harzell and the coordinator of education and science programs Nino Kochishvili paid a visit to the Academy of Sciences. The guests were greeted by the president of the Academy, academician Giorgi Kvesitadze, together with vice-president Roin Metreveli and academician-secretary Ramaz Khurodze and then they went to the library of the Academy and got acquainted with the publications of Georgian scientists issued at the academy and abroad. After this, a meeting was held with academicians,
including academician-secretaries of the departments of the Academy. President of the Academy, Giorgi Kvesitadze made a brief presentation of the history of the Academy and its activities. In his speech, EU Ambassador Karl Harzell expressed his gratitude for invitation to the Academy and noted that the EU's activities in Georgia are on a large scale, education and strong science are the basis of a strong economy and country's development. The ambassador
spoke about future plans and assured that the cooperation between the EU and the Academy of Sciences will continue.