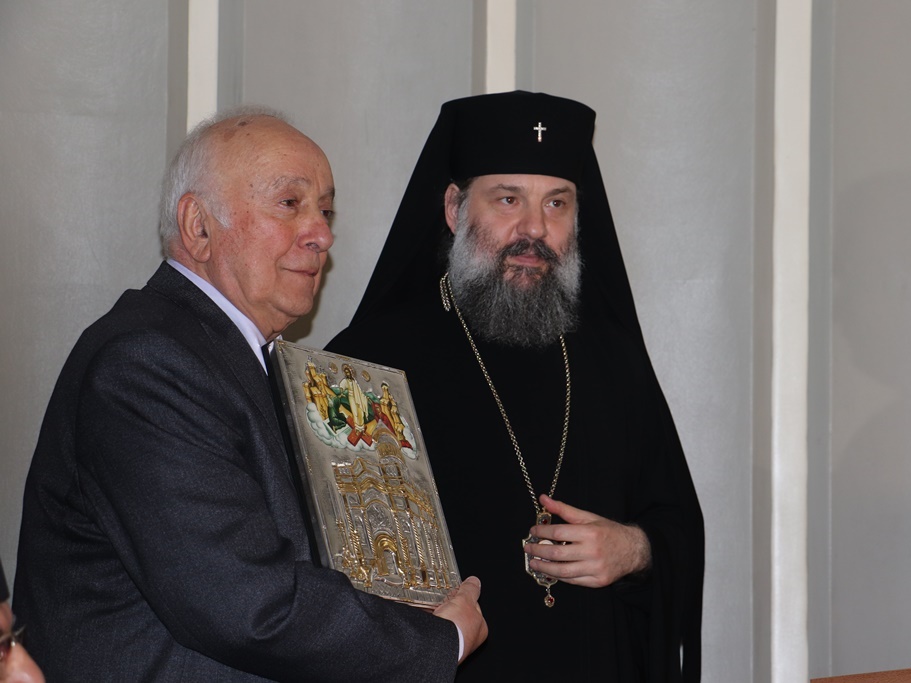 President of the Academy, Academician Giorgi Kvesitadze turns 80
Prominent Georgian scientist and public figure, President of the Georgian National Academy of Sciences, Academician Giorgi Kvesitadze turned 80 on May 30, 2018. A solemn meeting at the Academy was dedicated to this important date. The meeting was attended by prominent representatives of the Georgian Patriarchate, Parliament, academic circles and Georgian society.
The meeting was opened by the Vice-President of the Academy, Academician Roin Metreveli, who read the greetings from the Prime Minister of Georgia, Mr. Irakli Garibashvili, and the Minister of Education and Science, Mr. Mikhail Chkhenkeli. The congratulatory letter of the Patriarch of Georgia, His Holiness and Beatitude Ilia II, was delivered by the enthroned Patriarch, Metropolitan of Senaki and Chkhorotsku Shio (Mujiri). The Patriarch awarded the Academy with the highest award of the Orthodox Church – the Golden Order of St. George, and George Kvesitadze himself was awarded with the charter of the Patriarchate.
Giorgi Kvesitadze is the author of more than 300 scientific papers, including textbooks, monographs, 4 international, 77 USSR patents and 15 national patents. He is the organizer and participant of many international and local scientific forums dedicated to the problems of biochemistry and biotechnology. Academician Giorgi Kvesitadze successfully combines fruitful scientific activity with pedagogical activity. In 2016, he was awarded the title of honorary citizen of Tbilisi, and in 2021 the title of honorary citizen of Poti. Of special mention is his work at the Georgian National Academy of Sciences. For 10 years he headed the Department of Biological Sciences of the Academy, and during his presidency a number of innovations were introduced in the Academy, international connections have been expanded, namely the opening of a China-Georgia Research and Joint Technology Transfer Center in Yantai. Especially noteworthy is the fact that Giorgi Kvesitadze of the US Senate received a personal invitation for joint research with US research centers on the development of biofuel technology.