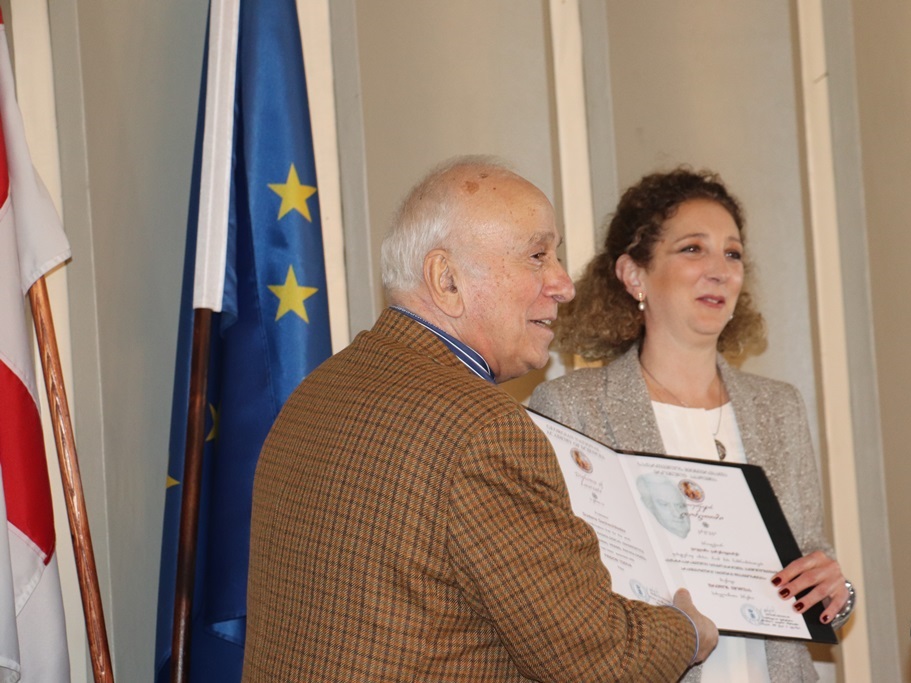 The World Science Day
On 8 November 2019, the World Science Day for Peace and Development was celebrated at the Georgian National Academy of Sciences. This year the event was conducted jointly with the Academy of Agricultural Sciences of Georgia. The session was opened by the president of the Academy, Academician Giorgi Kvesitadze. He congratulated the scientists on this Day and wished them success. Then the floor was given to the president of the Academy of Agricultural Science Guram Aleksidze . Protopresbyter Giorgi Zviadadze Rector of Tbilisi Theological Academy and Seminary Giorgi Zviadadze addressed the audience with a welcoming speech on behalf of the Patriarchate. The event was attended by the Chairman of the Parliament of Georgia Archil Talakvadze, who congratulated the scientists with the World Science Day and stated that no future can be built by any of the nation without science.
The celebration of the Day also included award-giving ceremony to the successful scientists. The honorary diplomas were awarded to: Doctor of Science Tamar Belashvili – in the field of Art Science; Cor. Member of the Academy – Guram Gabrichidze – Construction Mechanics; Doctor of Science Givi Gavardashvili – hydromelioration; Professor Larry Gvasalia – Chemistry and Chemical Technology; Cor. Member of the Academy – Giorgi Gogichaishvili – Management Systems; Professor Tamar Kacharava – agro-technology; Professor Irine Kvachadze – medicine; Dr. Zaza Lezhava – Speleology; academician of the Academy of Agricultural Sciences Gogola Margvelashvili – agrochemistry; Doctor of Science Giorgi Machabeli – physics; Professor Mikheil Makharadze – philosophy; Professor Nargiz Nachkebia – physiology; Dr. Aleksi Pachkoria – mathematics; Professor Jaba Samushia – history; Professor Giorgi Kochiashvili – medicine; Professor Eliso Kvavadze – palynology; Professor Elmira Chkhikvadze – electrochemistry; Dr. Kukuri Tsikarishvili – speleology; Dr. Giorgi Cheishvili – history; Professor Jumber Khantadze – inorganic materials science; Academician Elguja Khintibidze – Georgian Literature; Professor Giorgi Japoshvili – Entomology; Professor Marika Jikia – Oriental Studies.
Finally, the president of the Academy of Agricultural Sciences Guram Aleksidze awarded academician Otar Natishvili, academician Nodar Chitanava and Giorgi Nikoleishvili with the diploma the Academy of Agricultural Sciences.