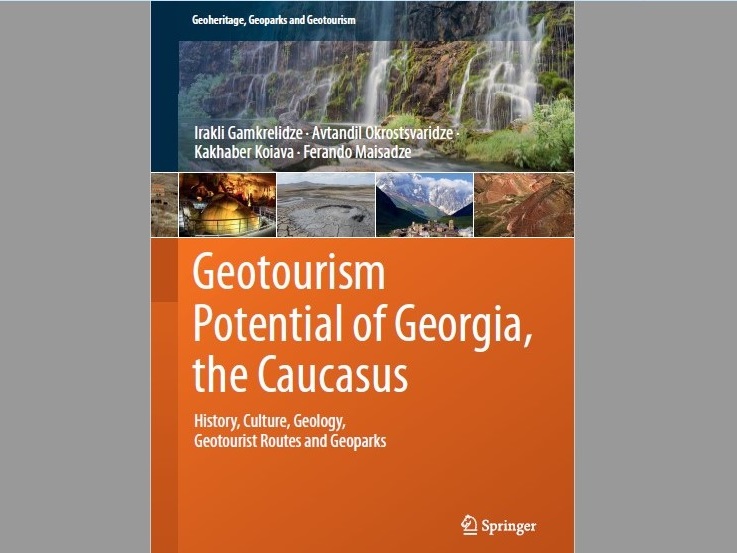 The Book: Geotourism Potential of Georgia, The Caucasus
In 2021, Springer Publishing House published the book "Geotourism Potential of Georgia, The Caucasus. History, culture, geology, geotourism routes and geoparks" coauthored with members of the Georgian National Academy of Sciences – acad. I. Gamkrelidze and F. Maisadze.
Georgia's territory represents a real "natural geological laboratory", exposing magmatic, metamorphic and sedimentary rocks, ranging from Neoproterozoic to the Quaternary. After a brief overview of Georgia's history and culture, the authors present the stratigraphy, rock types of individual tectonic zones of Georgia, their tectonic structure and paleotectonic reconstructions of the Caucasus.
This book describes in detail the three main geotourist routes of Georgia: 1. Tbilisi-Pasanauri-Kazbegi (along the Georgian Military Road), 2. Tbilisi-Zugdidi-Mestia-Ushguli, and 3. Tbilisi-Khashuri-Vardzia, which cross different parts of folded systems of the Greater and Lesser Caucasus and south caucasian intermountain area.
The following potential geoparks are also described: 1. Sataplia dinosaur footprints together with Sataplia and Prometheus caves; 2. Tskaltubo mineral water deposit; 3. Borjomi mineral water deposit; 4. Kazbegi Quarternary volcano and Keli volcanic highland; 5. Dariali Paleozoic granitoid massif; Dmanisi hominids site and the Mashavera gorge basaltic flow; 7. Dashbashi canyon, 8. Uplistsikhe rock-cut town and Kvakhvreli cave complex; 9. Udabno Upper Miocene marine and continental deposits and David Gareja monastery complex; 10.Dedoplistskaro – Vashlovani protected areas and mud volcanoes.