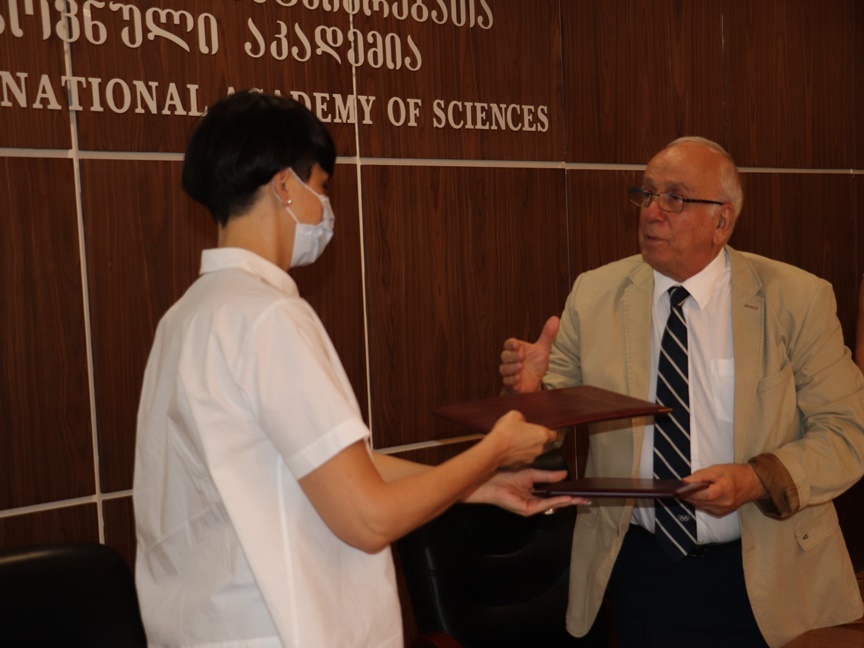 Memorandum of Cooperation with the 1TV
On 16 July, 2021, the Georgian National Academy of Sciences and the 1 TV signed a Memorandum of Cooperation which envisages the promotion of adequate public information on current scientific achievements in Georgia and the world and raising the level of public education.
On the part of the 1 TV, the meeting was attended by General Director Tinatin Berdzenishvili, head of TV Channels Rusudan Manjgaladze and head of News and Current Affairs Bloc, Giorgi Gvimradze. On the part of the Academy, the guests were welcomed by President Giorgi Kvesitadze, Academician-Secretary Ramaz Khurodze, Vice-President Roin Metreveli and members of the Presidium. Both parties noted that this project is necessary and obligatory for the country, its development and future. According to the memorandum, its purpose is to present the country's scientific achievements, promote scientific heritage, as well as reforms in the field of science and education, and the materials on the successful implementation of scientific research in certain sectors of the national economy. The memorandum also provides for comprehensive consultations with world-renowned researchers at the National Academy of Sciences of journalists working on science and education and leading educational institutions to facilitate qualified coverage of science issues in the media. It is also important that the 1 TV, within the framework of its editorial independence, ensures the involvement and participation of the representatives of the National Academy of Sciences in the production of the relevant direction and format on its platform.